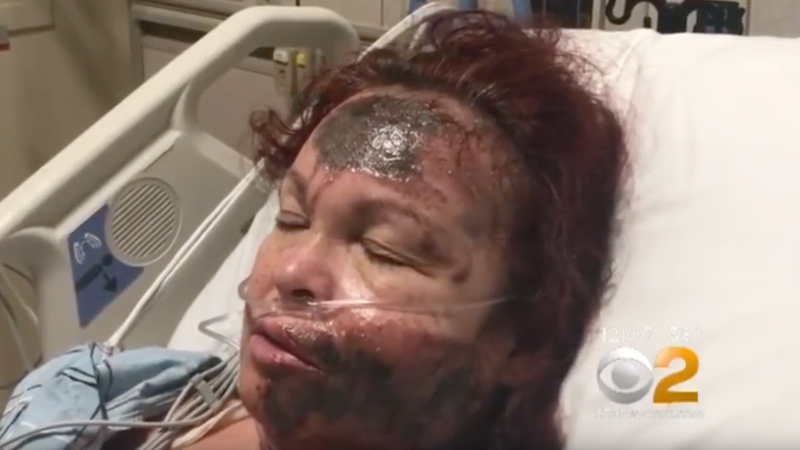 Can a woman with self-harm and mental health issues be held liable for a crime she tried to accuse another person of?
This is the only question that pops up in our heads when we read the account of police from New York, who revealed that after a thorough investigation and questioning, the acid attack by a black woman on Lizzie Dunn, from Staten Island, was false and self-inflicted.
Dunn in a report earlier this week said that a black woman in her 40s sprayed her with the harmful substance as she was walking along the Woodrow area after she didn't have any spare change or cigarettes to give to the supposed woman.
"I didn't know the person," Dunn, 52, told the Daily News. "She then asked for money, and I told her no and sorry."
That's when the supposed woman got mad and grabbed Dunn by the shoulder, spun her around, sprayed her in the face then fled, she told police.
After the supposed attack, Dunn frantically ran into a nearby deli and told the owner to call 911.
Medics rushed Dunn to Staten Island University Hospital, where she suffered third degree burns to her face, neck, and left hand.
"It seemed like she was spraying a lot of times, like she had to keep pressing the nozzle," Dunn told CBS.
"With my right hand I tried to grab the can and knock it out of her hand, and with the left hand I was trying to shield whatever spray she was misting on me."
Police later found out her story was fabricated and that Dunn's self-harmed before.
They also issued a recant of the warning signs that have since proliferated in the neighborhood where Dunn said the spraying occurred.
"The alleged acid assault in the Woodrow area yesterday has been found to have not occurred," the NYPD's 123rd Precinct tweeted on Tuesday.
"The injuries were self-inflicted and there is no perpetrator. There is no threat to the public."
The report added that investigators believe Dunn used a spray bottle to burn herself with a homemade acid of sorts.
She had scars from previous self-inflicted injuries on her body, investigators added
While no motive or reason for the incident has been explained, and police have not determined if she'll face charges of filing a false police report, people have been livid at the specific targeting of Dunn of black people for the injuries she inflicted on herself.
Lizzie Dunn's hatred for black people runs so deep that's she's willing to mutilate her own face just to send an innocent person to prison.  Imagine how many innocent people are sitting in prison now because of people like this evil woman? She needs to get charged.

— Kia Richards (@KiaRichards_) January 14, 2018
Lizzie Dunn is gonna be pissed when she looks in the mirror and sees her skin is partly BLACK due to the acid 😂😂😂

— BadBadLeroyBrown (@BBadLeroyBrown) January 13, 2018
I found it… The liar's name is Lizzie Dunn. She needs charges brought against her now. https://t.co/V68iuFiGoG

— Shay (@DeplorableShay) January 10, 2018
Meanwhile, other people are of the opinion that investigators should get Dunn the mental health care she needs:
@tariqnasheed this is the daughter of woman who said she was attacked, so call her get her side of story https://t.co/it7wexvuWL might be mental health #lizzieDunn

— Plutus (@Plutus_2017) January 14, 2018
NOT RACIST Lizzie Dunn has a history of self-harm. She's mentally unwell therefore she has no culpability for the discription. If you don't understand that you're just plain stupid.

— Mike Wheeler (@Mike3Wheel) January 14, 2018