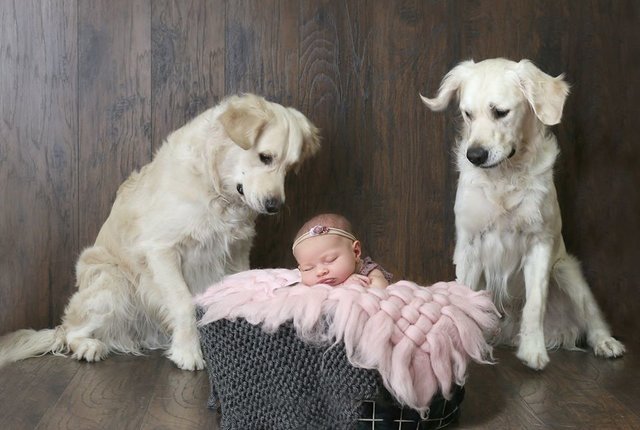 Here's another reason to love golden retrievers!
Even when our pups are naughty, they're still incredibly cute, and for the Cardinal family, the fur babies even got the human baby in on the heist.
Chris and Nina Cardinal, honorary dad and mom to 1 year old Chloe and golden retrievers Colby and Bleu, were astounded one day when they found Chloe wandering their hallway when they had just put her to bed with the door to her room closed, and that she couldn't reach the door knob yet!
In order to get to the bottom of the mystery, the parents decided to turn to their security camera; and weren't quite sure how to react to what they found.
This is unbelievably cute @dodo https://t.co/LmEMur4sCe

— Sophia Bernazzani (@soph_bern) June 8, 2018
Peep the video from the link above, and you'll see what we mean!
Turns out, the dogs knew that Chloe knew where the kibble and dog treats were stashed, but she just needed a little coaxing before they got her out her crib.
One of the dogs knew how to work a door knob, then they both barged in and woke up, and for extra measure, goaded her out the crib by stealing her stuffed toy.
"Lately she's been dropping food for them from their bin," said Chris to Pop Sugar.
"They figured she must be good to help feed them breakfast."
Ugh! But we can't help it: even when they're naughty boys, they're still good boys.
Why don't you take a peep at these even gooder boiz (and girls!) from our favorite account We Rate Dogs for a good end to your work week?
This is Barkley. He's been a painter for nearly 16 years. Focuses on the abstract and dabbles in a form of expressionism not yet artistically defined. 13/10 #SeniorPupSaturday pic.twitter.com/cA0zTqtCfm

— WeRateDogs™🏳️‍🌈 (@dog_rates) June 2, 2018
This is Poppy. She just finished planting the flowers. Really hopes you enjoy them. 12/10 would wink back pic.twitter.com/CnIBKfe9MA

— WeRateDogs™🏳️‍🌈 (@dog_rates) May 30, 2018
This is Link. He's never been to the park before and you pawmised today would be the day. 13/10 buckle pup buddy let's do this pic.twitter.com/VU3fTBIVSs

— WeRateDogs™🏳️‍🌈 (@dog_rates) May 29, 2018
This is Toby. It's his first time trying frozen watermelon. Brain freeze inevitable. 13/10 would blissfully boop pic.twitter.com/4bDyhqImV2

— WeRateDogs™🏳️‍🌈 (@dog_rates) May 28, 2018
This is Sassy. Today, she was crowned Flower Queen. Plans to rule benevolently. 12/10 would happily serve #SeniorPupSaturday pic.twitter.com/1F5PepSUan

— WeRateDogs™🏳️‍🌈 (@dog_rates) May 26, 2018