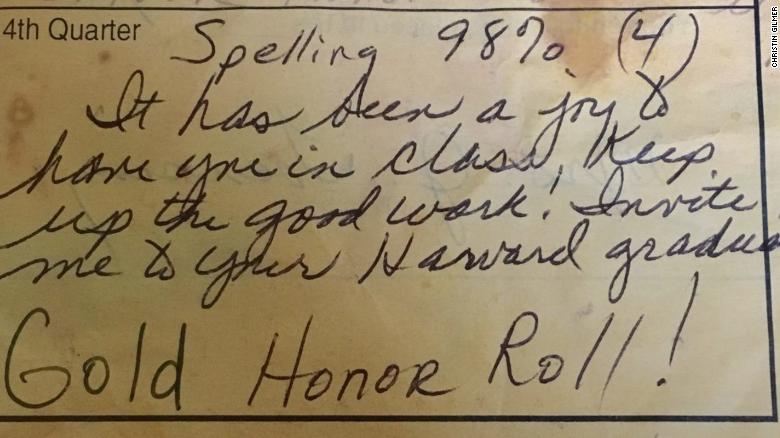 Call it foreshadowing, or just plain motivation to graduate from Harvard.
When someone deeply impacts your life at a young age, it's difficult to grow apart from their memory even after you think you're grown.
Christin Gilmer was set to march across the stage to accept her doctorate degree on public health from Harvard, but not before making good on a jokingly scribbled request on her 6th grade report card by one of her favorite teachers, Judith Toensing.
"It has been a joy to have you in class. Keep up the good work! Invite me to your Harvard graduation!" Teonsing, from Yuma, Arizona, wrote.
Turns out, Christin treasured that little note.
Imagine Toensing's delight when Gilmer showed up to her 6th grade class with a bouquet of flowers and an invitation to watch her march across the Harvard graduation stage.
This 6th-grade teacher once wrote "invite me to your Harvard graduation!" on a student's report card. More than 20 years later, the student did just that. https://t.co/PQow1tsuol pic.twitter.com/7xHN8BU1BK

— CNN (@CNN) May 29, 2018

So cute! Toensing was even recognized in the ceremony.
"I have high expectations of all my students, so to hear that Christin had achieved this goal did not surprise me in the least," Toensing told CNN.
"I feel honored that Harvard chose to tell Christin's story, her journey, and that I was a small part of that journey," Toensing added.
She added in the same report that the recognition garnered to her by Gilmer 'revitalized and energized' her to become a better teacher to her current class and the many more sure to come, and added that Gilmer was only going to go even further and do even greater things in the future.
"She has many more miles to go, I know with her tenacity, her dedication, and her passion for helping humanity, she will be highly successful and that we will all be the better for knowing her," Toensing said.