Todd the dog is the bravest little golden!
What was supposed to be one of their regular pleasant hikes through the desert hills in Anthem, Arizona turned into a harrowing experience for Paula Godwin and her 6-month old golden retriever Todd, when a scaly, scary critter decided to make its presence felt.
Godwin was about to step on a rattlesnake when Todd jumped into action, coming between her and the reptile's venomous bite, which landed on his face.
"He jumped right in front of my leg were I surely would have got bit," Godwin wrote on Facebook. "This is what a hero looks like."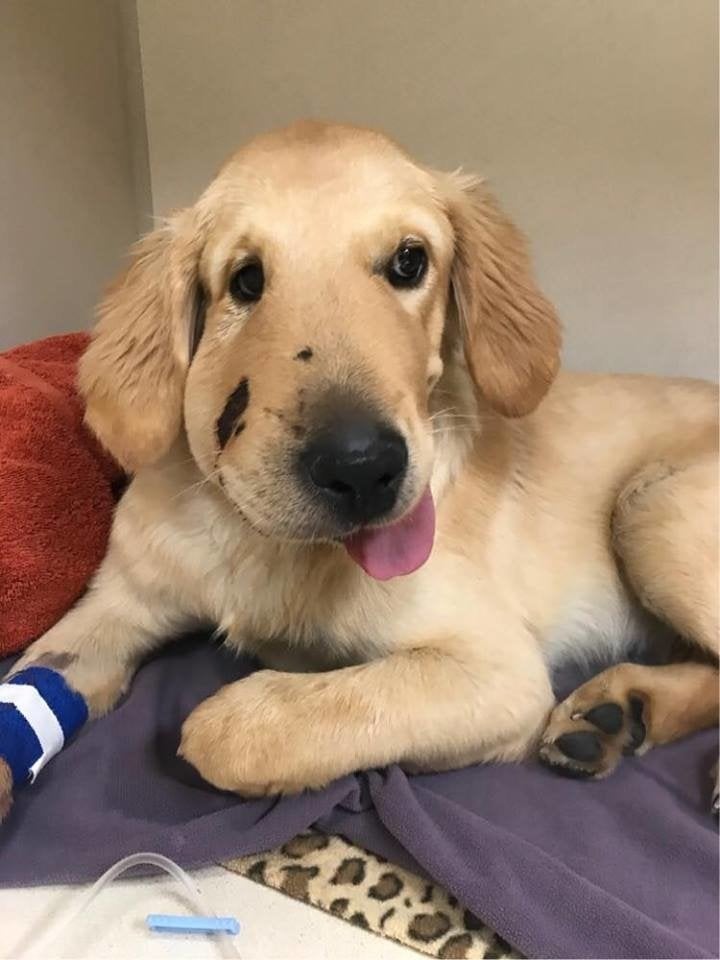 Behind that little face holds so much courage and love for Paula, for sure!
Godwin told KTAR News 92.3 FM that immediately after the encounter, she rushed the pup to an animal hospital, where he received an anti-venom injection but still ended up with quite a swollen face.
But don't be alarmed! Early Monday she posted on her Facebook that the courageous dog was "recovering so well" and thanked everyone for their concern and well-wishes.

The hugely popular Twitter account We Rate Dogs posted about Todd's bravery and immediately, the story went viral.
This is Todd. He saved his human from a rattlesnake yesterday. A true h*ckin hero. He's expected to make a full recovery and has been rewarded our fifth ever 15/10 pic.twitter.com/TsS6isI0Ew

— WeRateDogs™ (@dog_rates) July 1, 2018

People went crazy for the little dog:
Goodnight ONLY to Todd, the dog that saved his owner from a rattlesnake

— dandotdegs (@ddanaleighh) July 2, 2018
If your really a animal lover you probably have heard about Todd.Todd is a dog who saved there owner from a rattlesnake just think about that bound they have between the dog and the owner I give my prayers and wishes to Todd and his family.🤕👏 https://t.co/1u2SzxKWqb

— Brendan Hill (@Brendan2421) July 2, 2018
Breaks my heart every time I see a photo of Todd the dog who got bitten by the rattlesnake saving his owner 😭💔 We don't deserve dogs 😭

— Abbie (@abbiecarolin_x) July 3, 2018
Give Todd all the dog treats he wants (that won't make him sick).

— Becca (@beccarebec) July 3, 2018
Todd the dog is my role model.

— briancottingim (@BrianCottingim) July 3, 2018

Way to go, Todd!